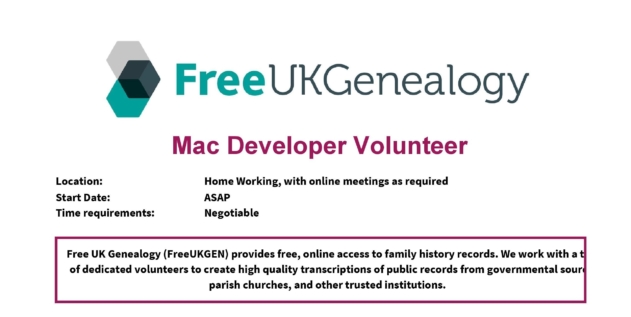 Our volunteers use dedicated software to transcribe public records into an electronic form. Most volunteers run this software on a PC but there are a number that use Macs. The Mac version (MacBMD-X) was written by a volunteer who is no longer able to support and enhance the software and therefore FreeUKGEN is looking for someone to take over this role. There may also be opportunity to develop further Mac versions of other tools, such as BMDVerify (used by volunteers to check their transcriptions).
We work remotely and follow an Agile development process, with tasks managed through our Trac task database and most communication via email/Google Hangouts and Slack. While you will work independently on Mac specific software, there will be opportunity to learn and receive support from our experienced volunteers. We also understand that as a volunteer, you may only able to commit to a specific number of hours or days per week and this is certainly negotiable.
Anyone interested in this appointment should check the repository containing the software (written in Objective C) https://github.com/richpomfret...to assure themselves that they have the skills necessary to perform the role and that they can support the code base as found.
The binary package itself can be downloaded from https://www.freebmd.org.uk/add...

Tasks we have on hand for this role and need help with include (but are not limited to):

Respond to bug reports
Progress allocated tasks
Develop and update MacBMD-X to mirror WinBMD functionality
Develop a Mac version of BMDVerify
Please email recruit@freeukgenealogy.org.uk with your CV and/or your relevant skills and experiences to apply, citing TECH-MACBMD in the subject.