Google Season of Docs 2019
Improving Documentation at Free UK Genealogy
Free UK Genealogy are applying to join the Google Season of Docs (GSoD) as a Mentoring Organisation in 2019.
The following are the outlines of projects where we need the help of technical writers. We will be adding details over the next week or so.

1) Opening up Opportunities in Open Genealogy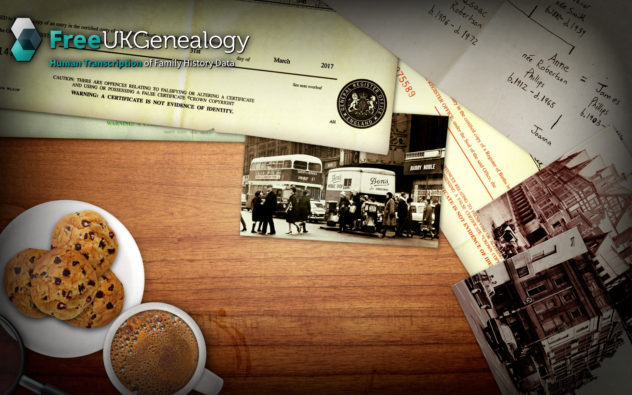 Can you help us create documentation to support the onboarding of new volunteer coders, technical writers, and others who need background information before contributing to the development and maintenance of our projects?
Our projects use the human transcription of historic documents freely shared through our websites, and aiming towards their release as Linked Open Data.
The documentation we need includes introducing our charity, the projects we undertake, the tools we have created to do this (front end and back end) and other tools we use. This would also include our methodology (open source, agile adapted to teams which are largely managed and staffed by volunteers) and document how we use Zenhub (currently in transit from Waffle) / Github in order to do this. This work would also include identifying learning resources for the languages we use, documenting our database schema and metadata to provide a high level overview of our code. The story for this on Waffle is https://waffle.io/FreeUKGen/Coordination/cards/5cb5aa0210d45904918d0981
This would include linking to our existing documentation for the use of Google meet, Slack, and other communication tools used by a wider range of volunteers.
Can you help one of the first crowdsourced projects (started years before crowdsourcing became a word) meet the needs of today's users?
FreeBMD is the most used, most complete, and oldest of our projects (it began in 1998, and currently has 350 million records, dating from 1837 to 1984). The website (www.freebmd.org.uk) and the tools have evolved over those years, and are called "FreeBMD1" to distinguish them for the new website which is currently beginning an intensive period of development "FreeBMD2" and the potential to include new datasets, including Births, Marriages and Deaths recorded in military and overseas contexts, "FreeBMDplus". The new website will use Refinery CMS, and Ruby on Rails to interact with the existing mysql database. Much of the code to be used in FreeBMD2 has been imported from the sister project, FreeREG, where it was developed. The zenhub for this project is at https://app.zenhub.com/workspaces/freebmd2-5cc6dc330898a02e123026e2/board?repos=30762438
Can you help with the documentation used by hundreds of volunteers?
FreeCEN is a project to transcribe the 19th century British censuses. It was founded 20 years ago, and has transcribed records of over 64 million individuals. It is about half completed. We want to provide excellent documentation for our transcribers, proofreaders and their managers, to help them and to recruit new volunteers at all levels (and thus get more high quality transcriptions. The original transcription tools are still used, and the original website now at freecen1.freecen.org.uk offers the widest range of functions (tools and website are called "FreeCEN1"). We are gradually moving to "FreeCEN2" - a new website (Refinery CMS and Ruby on Rails), with new systems of transcription, a new database (mongodb) and other new tools (at www.freecen.org.uk). Much of the code already used and to be used in the future on FreeCEN2 has been imported from the sister project, FreeREG, where it was developed. We have two stories on Waffle, and would love a professional technical writer to help us develop our documentation of the existing FreeCEN1 tools (https://waffle.io/freeukgen/freecenmigration/cards/5cb597bc92d6f4053024d671). Slightly less urgent, and possibly as an extension task, we need to document the FreeCEN2 tools as they are created (https://waffle.io/freeukgen/freecenmigration/cards/5cb5996a25b14404056f5a51).
Can you help make our training for transcribers of registers of Birth, Marriage and Burial more efficient, and more effective?
Currently each of the dozens of new volunteer transcribers is taught volunteer trainer. We want to increase the number of volunteers and speed up the training process so that we can transcribe more historic documents, and make them freely available as Open Data. The Epic is here (https://app.zenhub.com/workspaces/freereg-5c8d31ec9dfa726d3bf773e3/issues/freeukgen/myopicvicar/1506).

This could mean creating an animation of our transcription processes ... but other approaches are welcome!
For further information ...
The technical writer application phase runs from May 29th 2019 to June 28th 2019.
We will be adding a form here shortly, where you can express your interest in working on any of these Google Season of Docs projects. Completing the form will add you to our Slack channel where you can ask questions, and get to know the projects a little more.