Volunteering with Free UK Genealogy
Here you can find information on our many different volunteer work opportunities.
Free UK Gen is volunteer-led; we have around 6500 active volunteers working across the three projects. They are managed by a team of volunteers (we also have volunteer trustees), just under 3 full time equivalent paid staff, and a small number of contractors. Project-specific opportunities range from transcribing to coordinating teams, to overall management.
Tech Volunteers support the servers, databases, websites and software that make our services so accessible and valuable to researchers.
Core volunteers support the overall work of the organisation in areas including Design, Digital Marketing (e.g. AdSense, Adwords), and Social Media.
Transcribers welcomed for the following projects:
We currently have the following Management Team vacancies:
We are looking for capable, motivated individuals to join our Board of Trustees and Advisory Board to help shape the strategic growth of the organisation. We are looking for people with backgrounds in one or more of the following areas:

Charity Accounting
Fundraising
Genealogy
Open Data
Charity Law
Volunteer Management
Web Design
Law relating to Intellectual Property, Data Protection, and related areas
Academic research using public records of family history
Please email info@freeukgenealogy.org.uk for more information on these opportunities.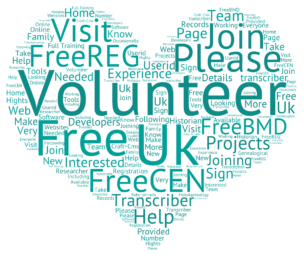 If you have Ruby on Rails, MongoDB , MySQL or HTML experience, and are interested in joining our team of volunteer software developers, who are working on a number of projects, including development of the FreeREG and FreeCEN websites, and online transcription tools.

Free UK Genealogy are an open data organisation. Our volunteers are based all over the world and we use Github and Waffle for code repository and issue tracking. All skill levels are welcome so please get in touch if you would like to discuss volunteer opportunities.

For tech volunteering, please contact Richard Pomfret, our Technical Project manager rich.pomfret@freeukgenealogy.org.uk
For other opportunities, please contact Denise Colbert, Engagement Co-ordinator, on info@freeukgenealogy.org.uk.