FreeUKGEN 2021: Open, Global Genealogy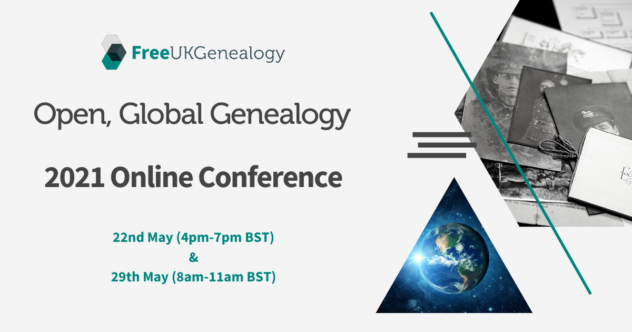 The theme of our 2021 conference is Open, Global Genealogy.
Free UK Genealogy was founded on the principle of "openness" with the aim of giving everybody free access to all their family history data. We are now taking a step further to ensure that we are open in every way possible to a truly global audience.
Who can attend?
Everybody! The conference has been split into two sessions which are being held at opposite ends of the day (UK time) with the sole intention of enabling as many people as possible to attend part (or all) of the events, wherever in the world they happen to live.
When is it?
Session One was held on Saturday 22nd May from 4pm-7pm (UK time). The recording of this session is now available below, and on YouTube.
Session two is on Saturday 29th May from 8am-11am. Register here to get the joining information.
The conference is taking place on Zoom, so attendees will be able to participate and enjoy the proceedings from the comfort of their own homes.
What will be happening?

A wide and varied agenda is planned which may include presentations on: technology in genealogy; an exploration of the 'openness' of a range of supposedly open archives, databases and records (and any impact caused by lockdown); an overview of file formats for the exchange of genealogical data between applications and data providers; and a look at how DNA and traditional genealogical sources can be combined to create a single family tree.
While the presentations will be recorded, they will be followed by a live question-and-answer session with the speakers who will also participate in panel discussions during the conference. The event will open with an update from our Executive Director Pat Reynolds and concluded with a summary by Chair of Trustees Richard Light.
For speaker opportunities, and/or to suggest or organise a forum discussion send us an email.