Update on the 'New' FreeCEN Website
The new FreeCEN website went live in July 2017 and has recently undergone an accessibility-driven aesthetic revamp. The release of the new colour suite across FreeCEN (pictured below), FreeREG, and the new FreeBMD website (FreeBMD2) currently in development represents many months of hard work and dedication applied by the Free UK Genealogy Volunteer Development Team. However, since we unveiled what was initially known as FreeCEN2, we've been making improvements and adding new features to enhance researchers' experience.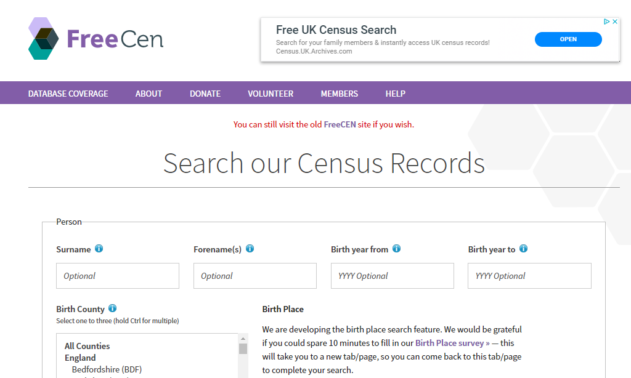 FreeCEN's new colours and darker, more visible text
What's been improved so far?
We knew what we needed to improve because users of the new website were invited to give us feedback via a survey. Hundreds of responses came in, with many of you asking for certain features that you find useful in the original FreeCEN website as well as helping us identify bugs that we were then able to fix, including table layout issues and ads obscuring page text.
Other work (including changes required for GDPR and development of the new FreeBMD website - FreeBMD2) has affected our capacity to be able to develop many of the the search features you asked for on FreeCEN2. We're now able to turn our attention to these improvements, and in the last few weeks we've addressed another major accessibility issue you told us about: the formerly light, spindly text on our 2nd generation search websites is now a heavier weight. This website (www.freeukgenealogy.org.uk) is yet to undergo this font change, and you can see the contrast below.

Comparison of new darker text and former 'light' text.
Users often request that we make it possible for them to be able to easily differentiate between the rows in the list of search results, and see which records they've viewed out of the list. This has been recently achieved, by numbering each record/row and the word 'Seen' being displayed below records viewed when the 'Back to Results' button is used in that session (this disappears when the search is performed again or a new search is done).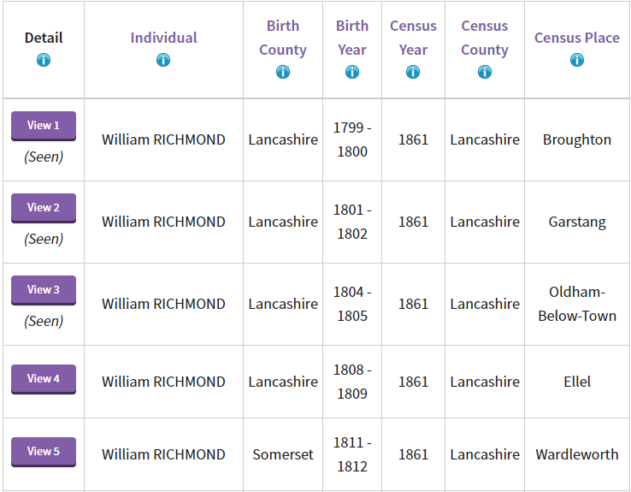 Example of numbered rows and 'Seen' on viewed records
What features are in the pipeline?
We're now making the search features a priority on FreeCEN, and plan to add the ability to:
search by address
search all of a country
search without inputting county
search by area/'place'
search by folio, page etc
search by occupation
search multiple census years
free text place name search
...amongst other features.

We know many of you will be disappointed that improvements to the searches related to place are quite limited. This has turned out to be a set of very complex problems - caused by the changing names and boundaries of the Registration Districts, the fact that Registration Districts sometimes cross county boundaries, the changing definition of places such as "London" over the last 250 years, and the variants of the way places were spelled. While we work out solutions, you will be able to use a free text place name search which will help.
Early in 2020 we released additional filters you can use to refine your search of our census records. You can now filter results by:
Marital Status
Language
Sex
Occupation
Disability