The decade included a coronation, an economic boom and the arrival of the teenager
We have reached the 1950s in our series on dating photographs from fashion. This decade saw the coronation of our own Queen Elizabeth II in 1953 - the 70th anniversary of which we are celebrating this year. Therefore, it seems fitting to start with a photograph of one of the many street parties held to mark the occasion (this one was in Lockleaze, Bristol), which gives us a fascinating glimpse into the fashions of the day.
We see the men are mostly sporting jackets and ties, with short hair cuts, while the women are in dresses or smart coats with curled or waved hair. The girls are wearing their party dresses with a cardigan or coat, while the boys mimic the men with their blazers and ties. It looks as though they were having fun!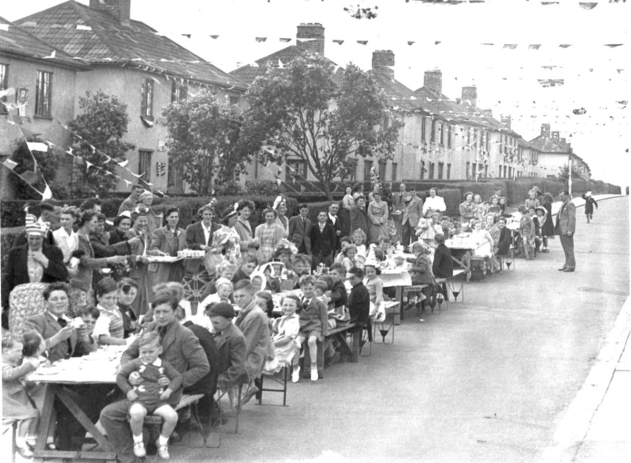 Golden Age of Capitalism - and the teenager!
The coronation aside, overall, the 1950s was a decade dominated by the post-World War 2 boom and dubbed the 'Golden Age of Capitalism'. It is also remembered, though, for the emergence of 'the teenager'.
In terms of photography, camera technology was continuing to advance with the introduction of the Pentax and Nikon F cameras; but photographs were still printed mainly in black and white. The use of cine film was increasing, too, capturing moving images of family events such as weddings and holidays.
But whether you have photographs, cine film or both in your collection, dating them can create a challenge. So, let's dive deeper into '50s fashion. With clothes rationing coming to an end in 1949, and the improving economic situation, the conditions were ripe for fashion to flourish.
Women enjoyed the increased choice and made a special effort to dress appropriately for every occasion. The styles were based on elegance, formality and matching accessories. For men, when not dressing for formal occasions, the momentum continued towards a more casual day-to-day style.
But, many fashions of the 1950s were heavily influenced by something new: the rise of the teenager. Until now, when young men transitioned from short to long trousers, for example, they would simply dress as younger versions of their fathers. Now, with higher wages and outside influences, young people wanted something new. They watched television, read magazines, bought records and danced to rock music. All of this influenced the clothes they wanted to wear.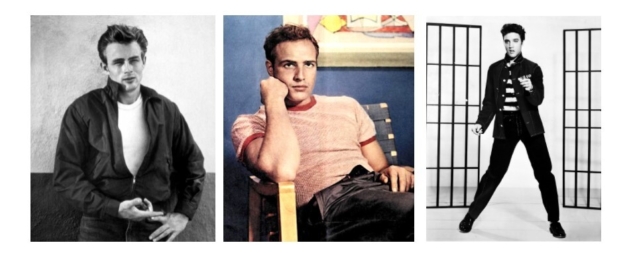 So, let's focus first on what men wore.

From early in the 1950s, many young men opted to rebel against tradition by styling themselves on the icons of the time. Think Marlon Brando ('A Streetcar Named Desire, 1951), James Dean ('Rebel Without a Cause, 1955), or Elvis Presley ('Jailhouse Rock', 1957) – all of whom popularised the white t-shirt, jeans, and greased-back hair look.

In Britain, many younger working-class men also created their own look with an adaptation of the 'New Edwardian' suit. This was a slim-cut suit with narrow trousers and a velvet collar, originally designed by Savile Row tailors for young men of the upper classes. Teenagers teamed the suit with crepe-soled shoes and 'quiffed' hair, and the 'Teddy Boys' were born.

Otherwise, formal daywear and eveningwear for men continued along the same lines as the previous decade, with suits maintaining the baggy shape that had started in the 1940s. Small changes crept in, such as the 'skinny' tie and an increasing presence of colour in shirts and jumpers.

For casual wear, men often wore a lightweight sports jacket, a coloured shirt, and a pair of slacks.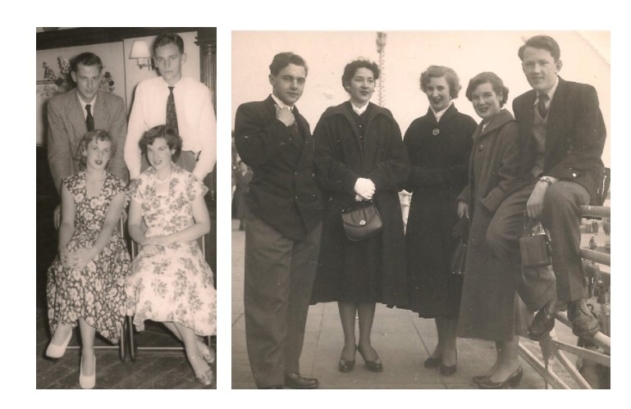 Women: from full skirts to pencil skirts
For the most part, teenage girls were less radical than their male counterparts. There was such a wide choice of stunning fashions that most simply tended to opt for more youthful interpretations of their mothers' styles.
Christian Dior's 'new look' (introduced in 1947) of the nipped-in waist and full-skirted silhouette remained the leading style in the first half of the 1950s. This core style was seen in evening gowns, day dresses, and separates. Materials used for day dresses tended to be patterned, while those for separates and evening gowns were plain.

In the latter part of the decade, the fashions became straighter and slimmer, as 'pencil' dresses and skirts became popular, along with straight-cut suits. It also became increasingly acceptable for women to wear slacks for some occasions.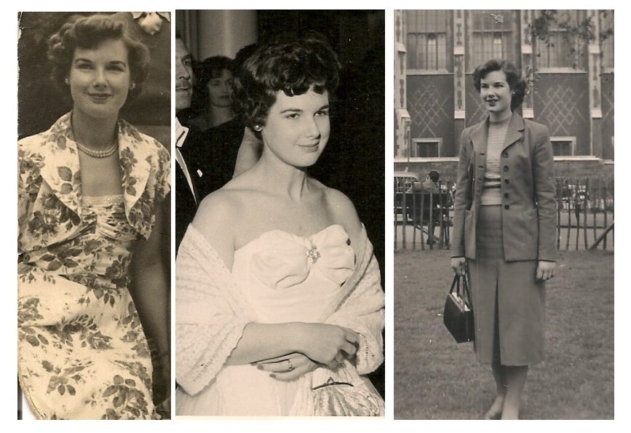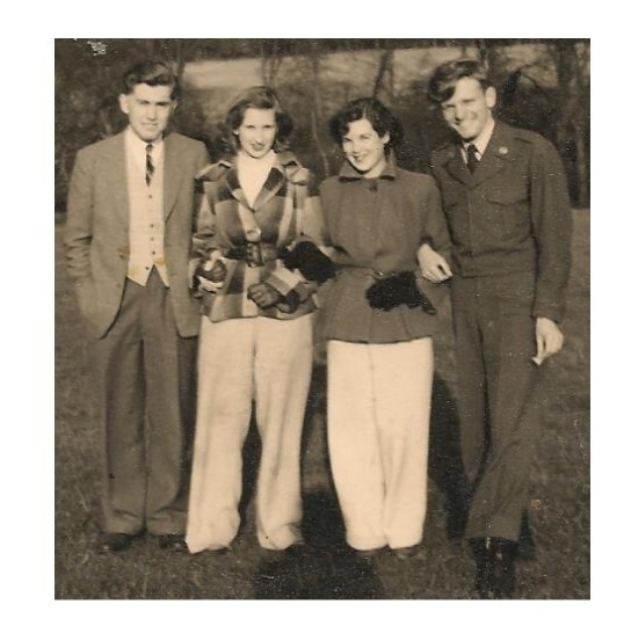 Overall, the fashions leaned towards femininity and formality. Indeed, this was the decade when the 'cocktail dress' became popular. These dresses were the length of a day dress but embellished like eveningwear.

The full-skirted dress remained the mode for evening wear throughout the decade, and a new strapless bodice was especially popular, as the pared-down bodice balanced out the wide skirts.
Women had different shoes for different occasions, ranging from closed-toed pumps to stiletto heels, and from wedges to sandals. While hats continued to be fashionable (such as the iconic pillbox, the veiled fascinator, or a large-brimmed straw hat for summer), women also tied colourful scarves over their hair instead. Their outfits were usually accessorized with a pair of gloves, a handbag or clutch purse, and jewellery (whether costume or real).

Coats were usually either very fitted, semi-fitted, or full and swingy. Full coats had wide sleeves, a triangular shape, large cuffs, collars, and usually large buttons as well. They came in long (to mid-shin) or short (to the hip) lengths.


Children's fashion in the 1950s mirrored the adults' trends. Young girls wore dresses with full skirts, and young boys' clothes became more casual.
In previous decades, young boys had typically worn collared shirts, ties, and blazers with a pair of shorts, until they were 'old enough for long trousers. However, in the 1950s, as for teenagers and young men, it became increasingly acceptable for boys to wear jeans for most occasions. It became rare throughout the decade for young boys to wear ties and collared shirts were abandoned in the most casual settings. Colourful and patterned short-sleeved, collared shirts were popular options for everyday wear. Knitted jumpers and cardigans continued their popularity.

In contrast, young girls' wardrobes consisted mainly of formal dresses with natural waists, full skirts, and puffed sleeves. Styles became more varied as the decade progressed, and included dropped waists, smock dresses, and pinafores in bold colours and patterns. White ankle socks and shiny black patent leather shoes completed the look. Girls also wore blouses and skirts, with a matching jacket or cardigan, with slacks becoming popular later in the decade. Hair was adorned with ribbons and bows.

Next time, we'll take a look at photography and the fashions of the Swinging Sixties: a decade where anything could happen and probably did – though we're reliably told that if you could remember it, you weren't properly partaking! The way people dressed was an obvious sign of shifting attitudes. In the 1960s, many chose, very publicly, to start looking different from the norm. We're looking forward to exploring this one!