In our series of blogs on dating photographs from fashion, we have arrived at the 1930s.
This decade heralded the beginning of the golden age of cinema. The 'talkies' had now firmly replaced the 'silent' movies, and going to the cinema was an inexpensive pastime for people. Many of them went every Saturday for their fix of the film stars. No surprise, then, that fashions of the time were inspired by the likes of Greta Garbo, Marlene Dietrich, Clark Gable and Errol Flynn.

While the knock-on effects of the Great Depression in the USA meant times were tough for many in the UK, women could copy the film stars' make-up and hairstyles at relatively little cost; and the introduction of man-made fibres and the zip made clothing more affordable and accessible. Clothes catalogues were launched in the UK (Littlewoods) and the USA (Sears), and the option to purchase items and spread the cost was appealing. Glamour was now accessible.
By this decade, many people owned cameras (such as the Kodak Box camera) as they were inexpensive and easy to use – having no focus feature and using a roll film. Lucky family historians, such as myself, have a wide range of photographs in their collection, taken in locations other than a photographer's studio. However, while colour photography was now possible, black and white photographs were cheaper and still the norm.
Women's fashion
Following on from the boyish look of the Roaring Twenties, femininity returned to ladies' fashion in the 1930s. Thankfully, though, corsets did not reappear.
In this decade, the fashionable silhouette evolved into a slender, elongated torso with widening shoulders and a neat head with softly waved short hair. Though the lines were simple, the overall effect was one of complete sinuous femininity with a natural waist and skirts flaring out slightly at the ankle. Hemlines descended back to ankle length and waistlines moved back to their natural place. (See the photo of my grandparents, with my mother, taken in 1933.)
In the evening, satin dresses with low backs were fashionable. A technique known as the 'bias cut' was introduced, whereby the fabric is cut on a 45-degree angle so it stretches and moulds itself gently to the body. This created a slinky, flowing effect in evening gowns and was sometimes used for daywear, too.
Day dresses came in a variety of patterns: floral, plaid, and dots. They were darted around the bust and fitted around the hips, falling to a straight skirt which often had gentle flutes through the insertion of bias-cut panels or pleats. Cap, elbow length and wrist-length sleeves were worn, usually with volume at the top and narrowing towards the wrist.
Fur was everywhere in the 1930s, for day and evening wear. It wasn't only for fashion – it had a practical purpose: there was still no central heating. It was used for fur coats; coat linings, collars and cuffs; capes; and gloves and stoles. While fur was a luxury item, it came in all grades and prices, ranging from sable down to rabbit; and faux fur, made from cotton pile, was available for those who couldn't afford the real thing.
Hats included a style of cloche which allowed room for curls to be shown off; caps and pillboxes in a variety of shapes and colours to match outfits; and even berets. For the summer, there were wide-brimmed straw hats to match the colour of the dress.
As the decade came to a close, and World War 2 began, the popular style of broad, padded shoulders, nipped in waists and shorter A-line skirts that would dominate the early 1940s had already emerged.

Menswear
While men still wore suits for formal occasions and work, casual wear such as knitted sweaters and soft-collared shirts became increasingly popular for day-time wear. Blazers and sports jackets with flannel trousers and open-necked shirts were styles influenced by sporting pursuits. This photograph, taken on the beach at Birchington, Kent in 1938, depicts the more casual approach to clothing that men, women and children were able to adopt in this decade.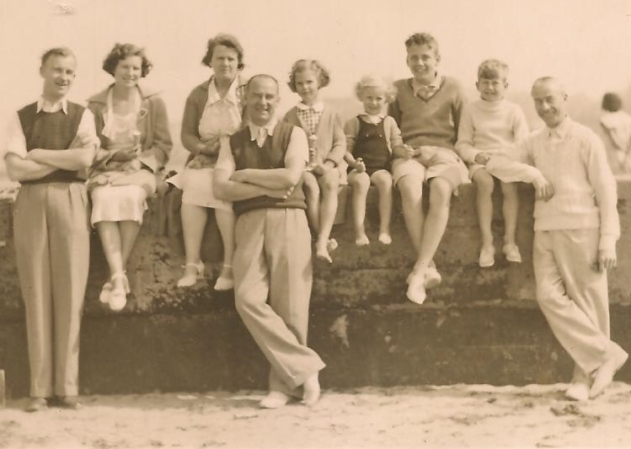 Oxford bags remained popular for men, and trouser legs continued to be wide at the bottom and worn creased and cuffed. When suits were worn, jackets had wide, padded shoulders and tapering sleeves. Of course, formalwear did not disappear altogether, and the tuxedo continued to be a popular choice, with white tuxedos being worn in warmer countries.
Towards the end of the decade and the start of World War 2, military-inspired trends such as the trench coat and the leather 'bomber' jacket saw popularity as casual outerwear.
Children's wear
Girls' dresses, mimicking women's fashion, returned to the natural waist. Cotton and muslin were popular fabrics, and dresses were embellished with embroidery, piping, and ruffles. Peter Pan collars remained popular (see the photo of my mum and her sister, below, in 1938), and dresses could be made in plain or patterned material.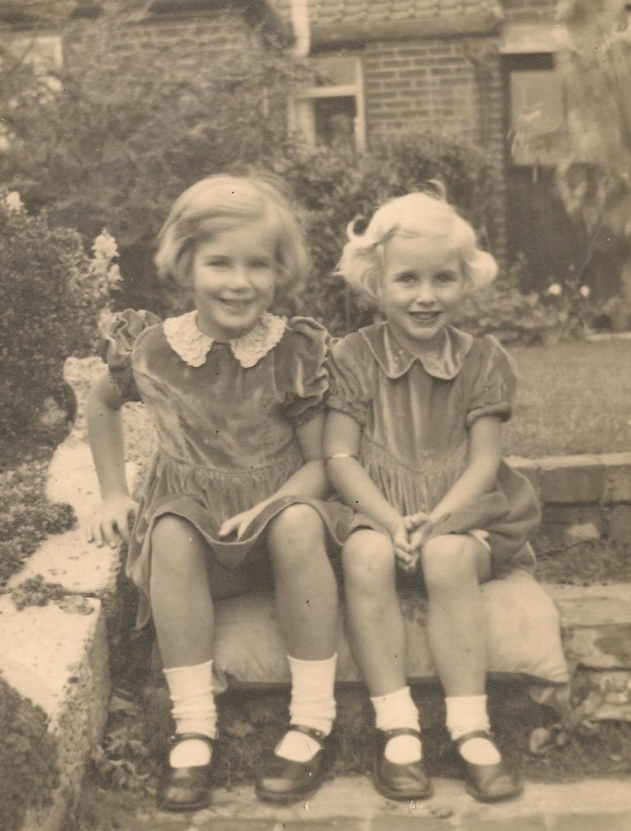 The movies had an influence on girls' clothing too, and the 'Shirley Temple dress' – with puffed sleeves, a high waist, and a short hem – was particularly popular for little girls. Older girls wore longer dresses that fell just above their knees.
Sailor suits continued to be a popular style for young boys, and age continued to dictate whether a boy wore shorts or long trousers, with younger boys wearing corduroy shorts and cotton shirts.
Older boys' clothing largely echoed their adult counterparts, with wool and flannel suits. Trousers were worn with a belt or suspenders, while hand-knitted sweaters or sweater vests were worn over collared cotton shirts with ties.
The end of fashion?
Next time, we take a look at the 1940s. This was the decade in which World War 2 resulted in clothes being rationed for eight years (from 1941 to 1949). Resources and raw materials for civilian clothing were limited, which could have spelt the end for fashion. But we'll discover how it survived and even flourished in wartime, often in unexpected ways