With 10 years' experience of deciphering 16th-18th century registers, FreeREG transcriber Cathy Jury has come across some interesting entries. She even wrote about the challenges of transcribing difficult entries, back in 2017. But the following note, referring to a baptism of 'John Shipway, the son of John Shipway' in the Charfield, GLS register, she says caps them all:
"Note that the entry of May 31st 1619 is a forgery, written at a much later date and forming part of the notorious Shipway Forgery. See also marriage 4 Feb 1617 and burial 9 Dec 1684."
Cathy looked into the story behind the entry, and says that it's worth the read…
Unthinkable
When the church records show a BMD record for your ancestor, you're inclined to accept it as a fact. Mistakes are made, of course – but usually only in the spelling or order of names. The possibility that an entry is fraudulent is unthinkable.
That's why Lt Col Robert Shipway of Grove House, Chiswick, who knew he had some 'ancestral connections' within Gloucestershire, was happy to accept the findings presented to him by the 'principal genealogical specialist' Dr Herbert Davies BA, MD, who he had hired to research the Shipway pedigree, in 1897.
But Lt Col Shipway was deceived. 'Dr' Davies was actually a 22-year-old former assistant school teacher who had assumed the BA (Oxon) degree of one Herbert Davies (who was now in Australia), and whose MD degree diploma from the University of Heidelberg was a complete forgery.

And, in fact, the 'findings' Davies presented to Lt Col Shipway had actually involved the desecration of several historical relics (including the addition to the Charfield register almost 270 years later, which Cathy had seen), and one unfortunate death following an exhumation. It all resulted in a three-year prison sentence for their perpetrator.
Remarkable fraud
During the next year following his engagement, Davies had pursued the Shipway line and traced it back to John Shipway (c1615-1690) of Beverston Castle. But his research had stalled with the lack of Shipway entries in the parish register prior to 1639, so Davies then commenced a remarkable series of fraudulent activities in order to establish a more ancient and far more important pedigree for the Shipways.

It should be noted that, throughout this period, Davies was being paid daily, plus expenses – in total he received £683 in fees and expenses (equivalent to c£91k today, according to the Bank of England's calculator).

Using his impressive academic status, Davies gained free access to the Beverston registers and convinced the vicar to supply legal certificates of the entries he had 'found'. He also gained permission to inspect the contents of some graves, leading to the 'discovery' of an inscription on the plate of a lead coffin (discovered after Davies was left alone to 'clean' it).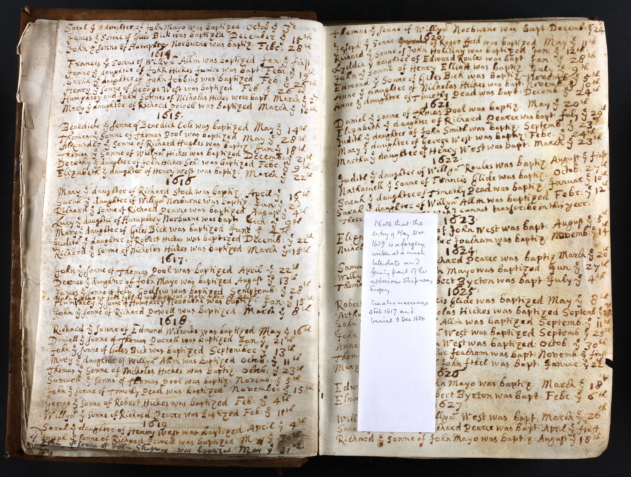 Image of the register page, with a note about the fraudulent entry.
Reference P74/IN/1/5, Courtesy of Gloucestershire Archives
"A lesson to all"
Davies' next act was to forge various wills. But this was to be his undoing.

Lt Col Shipway showed the wills to the eminent genealogist WPW Phillimore, who felt that the content was suspicious and alerted the appropriate authority. The result was a prosecution lasting from September to November 1897, which was avidly followed by the local and national press. Davies was sentenced to three years penal servitude.

Read more details on the story here and in this blog on the AmericanAncestors website, where the author wisely notes:

"The case of 'Dr' Davies serves as a lesson to all: even the most detailed attempts at crafting a fraudulent story will be unravelled by well-trained researchers."
Open, Global Genealogy
Of course, if all data was truly open and accessible to everyone - which is our aim at UK Free Genealogy, con-artists such as Davies would find it more difficult to work their scams!
OPEN, GLOBAL GENEALOGY is the theme of our annual conference which will take place (online) on 22 and 29 May. Find out more about our plans for the conference and register to join us on the 2021 Conference page.